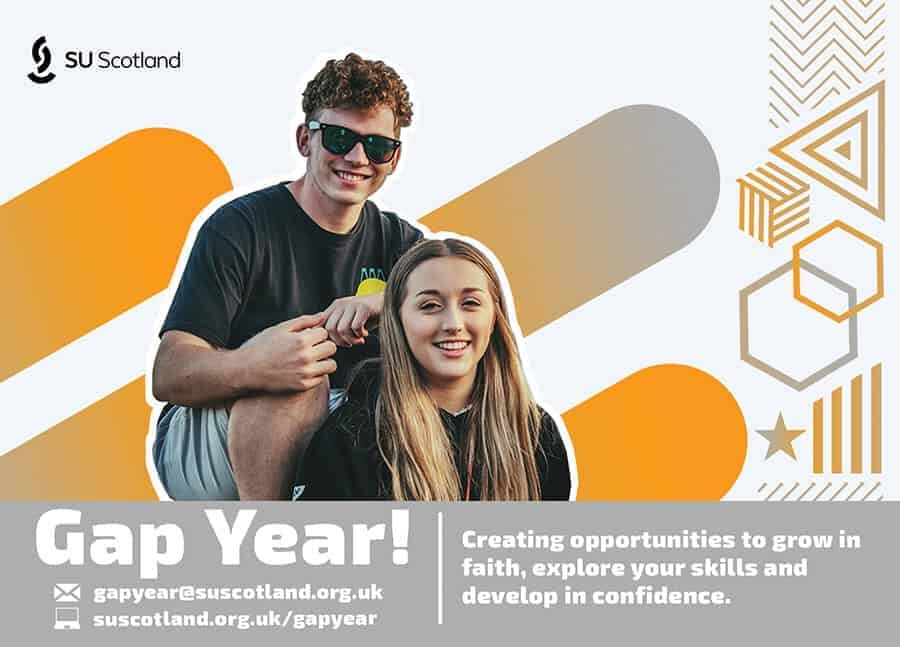 Are you looking for time out that provides personal growth and discipleship as well as opportunities to make a difference? If so, then a gap year with Scripture Union Scotland, may be for you!
Our gap year programme, for 17-25, runs from August to August each year, with a strong missional focus. Our aim is to train and equip young adults to be salt and light by providing them with opportunities to help children and young people encounter God through sharing their faith and exploring the Bible. Further information on our web page https://www.suscotland.org.uk/gapyear and from [email protected]
This is for you if you're:
Passionate about young people's ministry
Seeking guidance about your future
Exploring a calling to mission or ministry
Wanting to serve God in a hands-on way
Looking to challenge your faith and move forward in your walk with God
What to expect
A unique and exciting experience both here in Scotland and internationally
Specific and practical training for your placement alongside experienced practitioners.
To work with and affect the lives of young people in a huge variety of contexts.
Support, care and advice throughout your year and beyond.
Someone to mentor you throughout the year
Choose from a variety of placements
gap:local
gap:local is a busy, varied placement in the front line of ministry. Alongside a regional worker you'll help to run SU Groups, Weekends, SU Holidays, youth groups, holiday clubs, discipleship groups for senior pupils or training with volunteers. Be ready for the unexpected!
gap:urban
gap:urban is based with youth projects in urban priority areas across Scotland. You'll help lead a range of social and emotional support groups and SU Groups; take part in detached work and drop-ins clubs; and be on the team for relevant residentials. Due to the nature of this placement it is only open to applicants over the age of 20.
gap:church
gap:church is your chance to gain insight and expertise in what it means to work for a church. You'll serve on staff at a local church with their youth and children through the week and participating in their Sunday programme. You will also spend part of your time with a Regional Worker to see how church and schools work complement one another.
gap:comms
gap:comms is for you if you have an interest or skill in social media, design, website content, video editing, photography or event management. Working with our SU Scotland communications team, you will have opportunity to bring your creative ideas to the table, learn loads, and develop your existing skills.
gap:centre
gap:centre will see you based for the year at one of our three activity centres. You will work primarily with the school's team, providing excellent residential experiences for visitors.
gap:fusion
gap:fusion is a year between split between two of our placements.
"Taking part in the SU Gap Year completely changed my life. I can honestly say it was one of the most challenging, fruitful, difficult, exciting, encouraging years of my life where I was pushed out of my comfort zone, invested in, given safe spaces to try and fail, learned about myself in unexpected ways and learned so much more about trusting God on a deeper level. Without this gap year programme and the placement I went on, I wouldn't be the person I am today or doing the things I am doing today. I have been unleashed into new territories better equipped and supported and learning daily more about the person God has called me to be."

Katie
The gap year is voluntary and costs of doing a gap year and more information can be found: https://www.suscotland.org.uk/gapyear
If you think this is for you then we would love to have you apply – you can download the application form from our webpage: https://www.suscotland.org.uk/gapyear
Applications close in early June but get your applications in early and you'll have more time for fundraising.
For more information please email [email protected]